The Story Behind The Name
Who Is Walter Anyway?
Built on years of experience learning the pizza and restaurant businesses from the ground up, Walter's303 was founded in the fall of 2010 and got its name after a simple misunderstanding. Founder Mike Kienast's now-wife, Jen, suggested the name Walter's for years until one fateful day Mike finally asked, "why?":
Mike
Why do you keep suggesting we name this place Walter's?
Jen
Um, because it's your middle name...!
Mike
What...?! My middle name is Wayne, it's nice to MEET you!
And with that, Walter's303 Pizzeria & Publik House was born. Since then, Walter's303 has grown to four front range locations, bringing our Always Funky, Never Dull vibe to city folk and suburban settlers alike. We're serving up a full menu of Walter's-style pizza, craft beers, and classic pizzeria favorites fit for families, cool cats, tap heads, or anyone who just loves a good slice of life.
Come in, relax and stay awhile.
Peace & Pizza!
The Walter's303 Family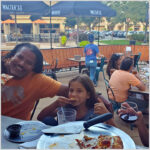 Ready To Meet In Person? Explore Our Locations