Flying Horse
Hours:
Mon: 4PM - 9PM
Tues – Thurs: 11AM – 9PM
Fri - Sat: 11AM - 10PM
Sun: 11AM – 9PM

HAPPY HOURS:
Monday 4PM - 6PM
Tuesday -Friday 2:30PM - 6PM

HOLIDAY HOURS
Happy holidays from Walter's303 | Flying Horse

THANKSGIVING: Closed
BLACK FRIDAY: 11 AM - 10 PM
CHRISTMAS EVE: Closed
CHRISTMAS DAY: Closed
NEW YEAR'S EVE: 11 AM - 9 PM
NEW YEAR'S DAY: 4 PM - 9 PM
Colorado Springs'
Best Pizza & Wings
Don't Take Our Word For It, Hear It From The People!
This is a longtime neighborhood favorite. Excellent pizzas, plus an unusually good beer tap selection. Try the deep dish, with a recommendation from the staff on a tasty pint to go with it.
Hands down my favorite pizza place in Denver! So happy to have the Lowry location now. My boyfriend and I eat here very often. The food is always hot and fresh, they have great prices, and the beer is good! I highly recommend this place to my friends all the time! 🙂
The Gluten Free crust was tasty and light, I haven't had anything half that good in a long time. We will definitely be coming back here, everything was delicious and fresh.
The dry rub wings bro. The dry rub wings!
LOVED the outdoor patio! Super friendly staff and really good pizza and wings. Plus there's a full bar with a ton of great beer on tap.
I'm picky with pizza… this was *kiss fingertips* delicious! The service here is excellent! I felt very welcomed here. I'll definitely be back.
They have the absolute best pizza! We no longer go anywhere else. Thanks for being open for pickup during these COVID times!
Family owned and run. Our favorite pizza place in town. Salads great. Wings delicious. Pizzas fresh and tasty; love them all but Keep Tahoe Blue is a must.
Listen up, this place is legit!! We couldn't have been more satisfied than we were last night. Their service was top notch, we brought our dog on the patio and the staff brought him water. The pizza was the best that I've had in a long long time. We had the B.O.M. and the Keep Tahoe Blue, they were both to die for! The atmosphere was way chill. We will definitely be coming back, thanks for a great experience!…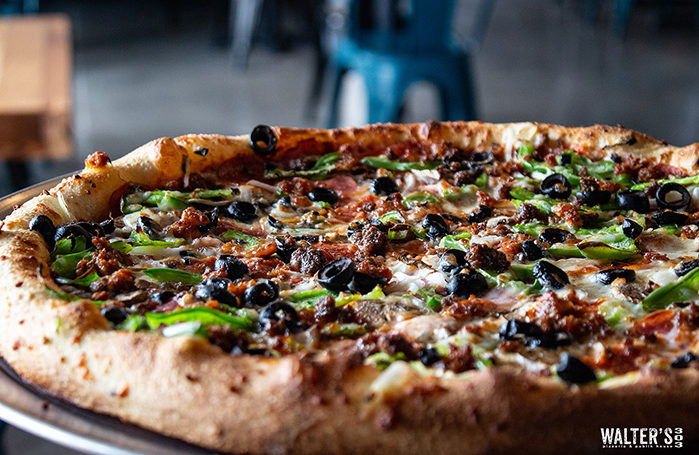 PIZZA ON YOUR MIND?
CHECK OUT OUR MENUS
Throwing a party? Organizing a meeting?
Gain BEST HOST EVER status with
Walter's303 Catering. Place your order
with EZCATER or call 719-487-3006
A minimum 24-hour notice is required.
EZCater requires a $100 minimum.
Delivery requires a $30 minimum.
About Flying Horse
Built in the City that Inspired Walter's
Come for the 20 rotating craft beers and patio views, stay because you – and your family – will feel like regulars from your first visit.
Check Out Flying Horse Events
Pint Nights, Exclusive Tappings, and Special Events
Meet the Hammetts
Mentors, Friends, Partners
Debby and Dave have tons of experience in the pizza business and have always believed that family comes first and community always matters. Together they've owned and operated several successful restaurants and have known Walter's303 founder, Mike Kienast, for years. As a matter of fact, one of Mike's first jobs was at a small pizzeria in Colorado Springs with Dave at the helm. It was this early experience that set each of them on a path that would eventually come full circle. In 2015, Walter's303 was looking to expand and the Hammett's were looking for a new adventure. Just like a perfect pizza, you have to have all the right ingredients that make a great partnership and this one has come out just right!